Do you know the 4 questions you need to ask.
Up to now there has been 3 approaches to buying skis: Talk to a sales person and hope they know what they are talking about, read the numerous skier guides and hope they are not too biased, get on the internet and look for the best deals. Fully custom ensures you get the right set of skis every time and at Community Skis we guarantee it.
Why choose Community Skis?
We have the longest warranty in the industry. Designing a set of skis with us start to finish is a seamless process that's fun. We've designed several thousand fully custom skis for our diverse Community of clients. We listen, test, innovate and have been constantly improving.
How custom are custom skis?
Starting with the best ingredients we are able to manufacture almost any conceivable design. This includes flex pattern, sidecut, underfoot width, length, camber-rocker profile. But what really makes custom skis truly custom is when we start the conversation with you to determine what you want your skis to do and then we build your skis to the highest standards. And don't forget, fully custom means fully custom graphics as well. No need to be concerned about getting started and getting fully custom, you'll be working with some on the best listeners and technicians in the industry.
Who is skiing on Community Skis?
Across the board, Community clients have two things in common. 1st- A drive to keep getting better at whatever they do, 2nd- They take skiing seriously, serious about having fun and serious about having the right gear. Community builds for skiers who've climbed the ranks in the industry and are at the top of their game. We also build for brew masters, CEO's, scientists, engineers, and teachers. All-in-all, our clients have chosen us because they value their relationship with their skibuilder.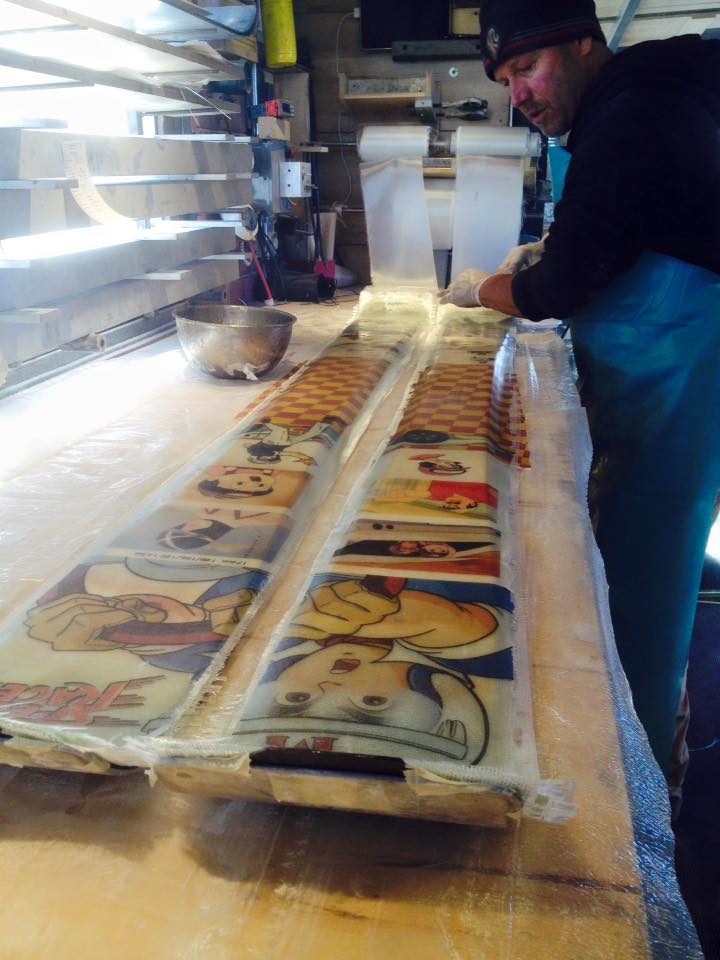 Laying up fully custom graphics on a ski designed for all mountain leaning towards powder. 174cm 140/106/130. Early taper tip and tail, Rocker-Camber-Rocker.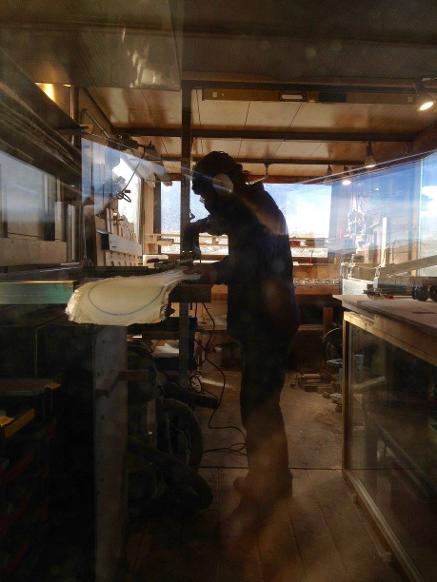 Final stage of manufacturing. To achieve high standards it takes focus, patience and an innovative spirit.
Eastcoast carving skis: 180cm, 128/82/118, slight tip rocker, camber.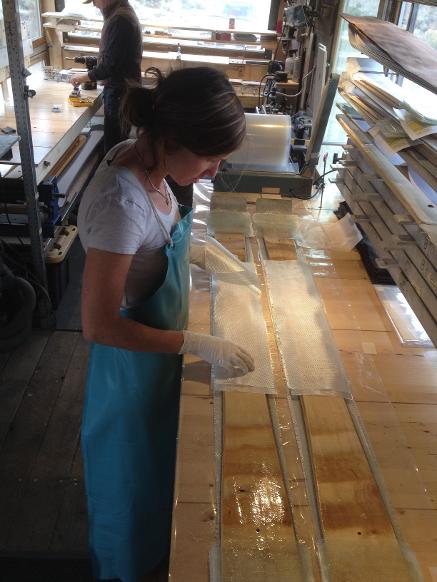 When you start discussing your ski design with Kristin you'll recognize immediately her depth of knowledge as a designer, builder, listener. Building a backcountry, ski for maritime snow pack. 188cm, 130/98/118, Rocker-Camber.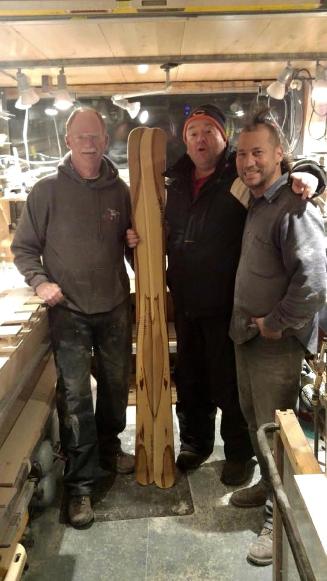 Dan Genet, Willy and Michael
Willy Albriet dropping by the shop to pick up his second set of skis. His first set were designed for powder this set is a straight carving ski with a wood veneer topskin. 174cm 128/82/116, Full Camber.