A CUSTOM SKI IS LIKE NO OTHER SKI
It's completely unique to YOU.
Fully custom entails exact ski lengths, specified sidecuts, preferred camber rocker profiles, flex patterns adjusted for type of ski, how much you weight and how fast you ski. It also included specified underfoot widths, tip and tail widths, tip to tail ratios, and early taper when appropriate.
Based on our design process we can suggest exacting specifications for the ski that will do what you want it to do, where you want it to do it. Going through the design process will also give you meaningful insights so you can tweak any of the specifications.
You can feel confident that what we're designing and the skis that you'll be getting will meet all your expectations.
WE GUARANTEE IT.
This is what you're getting:
-2 year product warranty
-Skis built to specification
-Extensive support through the design process
-The price of custom graphics includes professional services
-Your skis are built with the finest materials including birch core stock
-Your skis are built in the USA
-Great customer service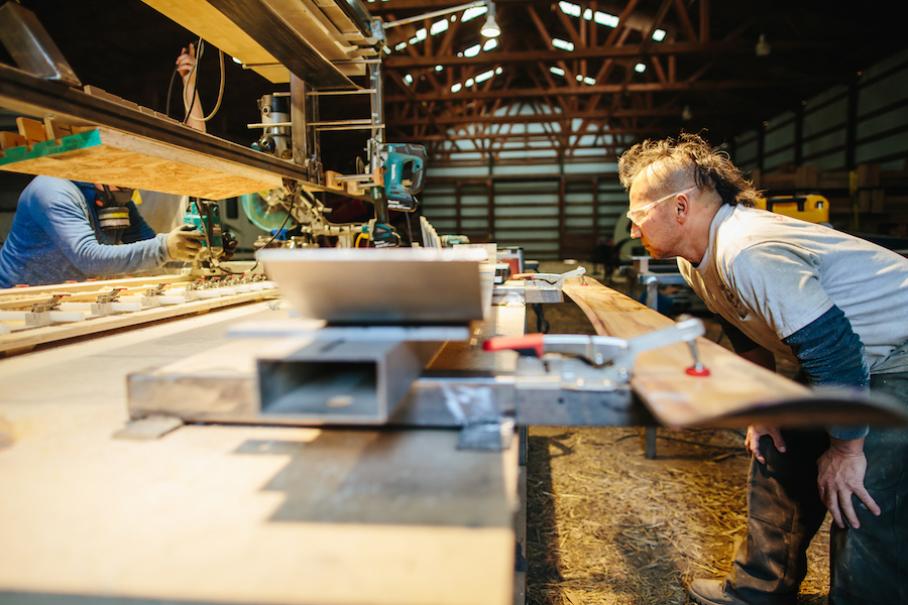 CARBON FIBER (LIGHTWEIGHT)
ORDER
SKI DESIGN - MADE SIMPLE
We guarantee you'll love your new skis


JUST CURIOUS?
We have you covered. Check the "Just Curious" box on the Order Form and we'll design a custom set of skis for you.
We understand designing your own skis might sound intimidating so we've made the process simple for a novice to an expert.

Maree's sister is a fine artist. She drew this phoenix which is also Maree's daughters middle name. Set on a light wood veneer.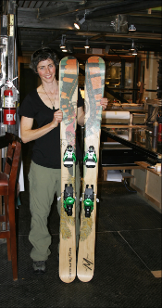 Maree is from Australia. Down-under is a heavy maritime pack so the skis are built as a mid-fat, all-mountain performer. The nose section is modified for added lift in powder and maneuverability.


Ian, chef and owner at Skadi restaurant, incorporated Bergslien's painting, the iconic Viking silhouette and his logo to create a Scandinavian graphics package.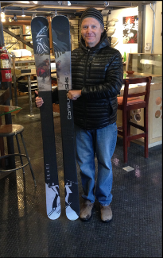 Skis are a mid-fat. They are good for both trekking and buoyancy in the backcountry. Just a slight section of tip rocker and a 25m turn radius for longer, drawn out turns. The skis are ultra-light carbon with moderate camber.


David is a writer and has always expressed a keen appreciation for the written word and the images that often time accompany them. So what better than to incorporate ads from the heyday of print slogans and pictures.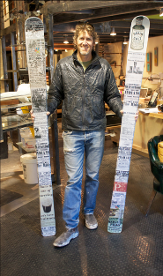 These skis are designed for float and turnability. David is an avid tele skier working on going deeper, faster and through narrower chutes. Skis have a slight section of tip early taper and a decent section of tip rocker for additional float in powder. Moderate camber for pop coming out of tele turns.


Gustav Klimt, a member of the Vienna Secession has long resonated with Gabi. She has seen his work in Austria and when she had the chance to design her skis it was the obvious choice. This is a complication of The Three Ages of Woman and The Kiss.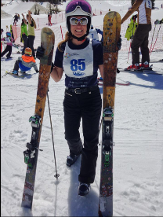 Gabi grew up on skis. Her father was coach for the Czech woman's Olympic team. She skis fast with excellent form. Everything about this ski is high performance- Leaning towards mountain and light powder. When the snow gets fast and hard, she can roll mid-range carves and transition into crud and pow at full speed.


Sock monkeys and more sock monkeys.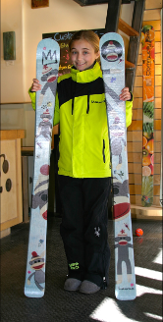 Lauren is on the Mammoth Mt. race team and needed to build out a strong performance all-mountain ski leaning towards powder. In her class, this is a mid-fat with a slightly rockered tip.


Freddy is an astrophysicist that designs space ships. So, he was less concerned with graphics and more so with performance and light-weight. The look is jet black, carbon fibers.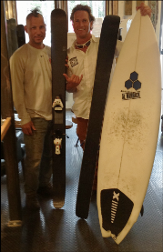 Skis were designed with tip and tail early taper for turn-ability and a heavily reinforced underfoot section for hard carving. There is a moderate section of camber that blends into tip and tail rocker for all mountain performance. Freddy likened the whole process of shaping his skis to that of shaping a surfboard.


Keith's been skiing in tye-dye for a couple decades now. He's a Mammoth local, one of our top tele skiers. So when we suggested tye-dye it was a natural fit. The heart logo is a signature piece by Keith.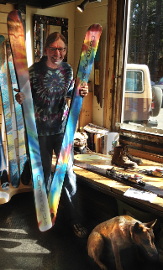 Keith had been skiing the Armada JJ's for a long time and wanted to design a ski with more length and with more underfoot torsional strength and hold. We aced out the tail early taper but kept a small section of tail rocker.


Yosemite, Hawaiian waves and the map of her favorite mountain. These are the images that Debbie, an attorney from LA whose been coming to Mammoth since she was a child wanted on her skis.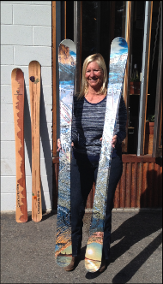 Debbie likes to make lots of short radius turns as we set the sidecut at 13 meters. She has a narrow underfoot for fast transactions and we added a slight section of tip rocker to give the skis some all-mountain performance.