WE BUILT THE FACTORY TRANSPARENT SO YOU CAN WITNESS THE PROCESS AND ENTER INTO DISCUSSIONS REGARDING OUR APPROACH.


Simply put, a ski is a layering of various materials which are then bonded under pressure within an epoxy resin matrix, Otherwise called a composite.
Community Skis is in the business of building advanced composites to specification.
Our in house ski design software is one of the most sophisticated design platforms in the industry.
Like
the majority of other advanced composite manufacturers, we utilize vacuum technology which is infinitely superior from both the cost and quality side to the typical ski press.
Because the hand, actually the thumb, created this vast potential for process and creativity, it went on to necessitate the continued development of the human brain. We're dedicated to this evolutionary process through tasking both hand and mind to create
efficient
, repeatable processes's that produce finely tuned custom skis.
We love the conversation.
The ski design process is simple at Community Skis. But as Leonardo da Vinci said,
"Simplicity is the ultimate sophistication."
Through the collaborative process of ski smith and you, the client, in a very short period of time you'll build confidence in each successive step towards your final design. Best of all, it's fun.
The design software produces what is known as the Shop Copy. It provides all the information for the factory floor to produce all the parts to build your skis.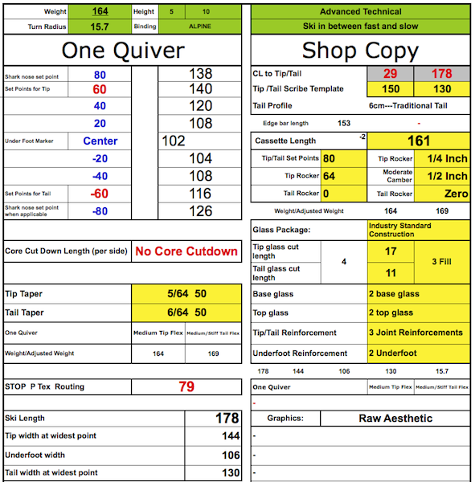 For over 30 years I've been building and working in mono, snowboard and ski factories. Respiratory, eye and ear protective gear are a must.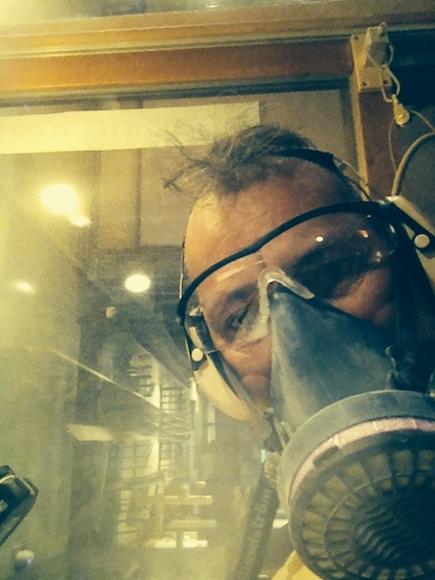 Above in the shop copy (upper left corner), there's a series of numbers which denote a location on the rail package and the corresponding calibration block. This is an extremely fast production tool that allows us to accurately shape each custom ski we build.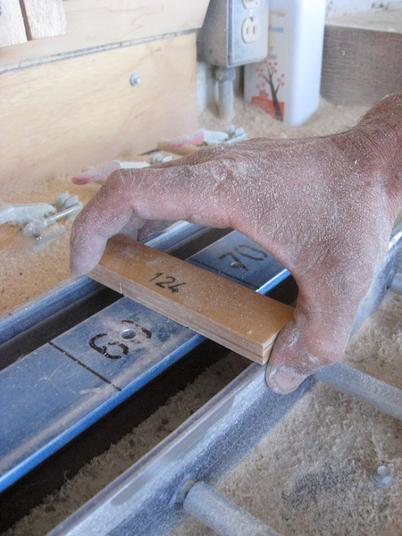 We felt all along that introducing automation into the manufacturing environment would slow us down and remove us from the cherished process of hand-built. Pushing a button, even if it's a really expensive button (CNC), is mundane. We really want to be in the business of working, not so much pushing buttons.
Set up time, 3 mins 40 seconds. Material cut time, less than 7 minutes.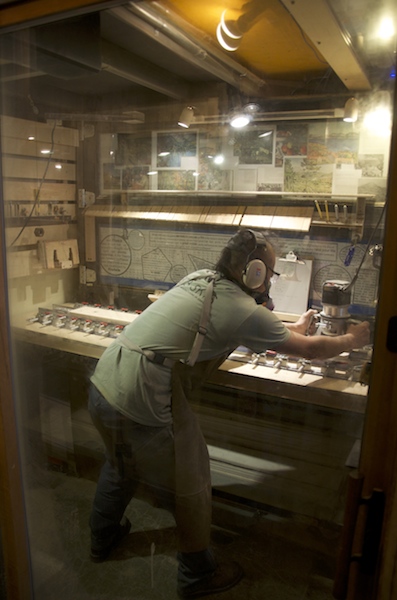 Flush trim router bit and 30 degree sidewall trim cut. CMT carbide (Italian), allows us exceptionally fast feed rates.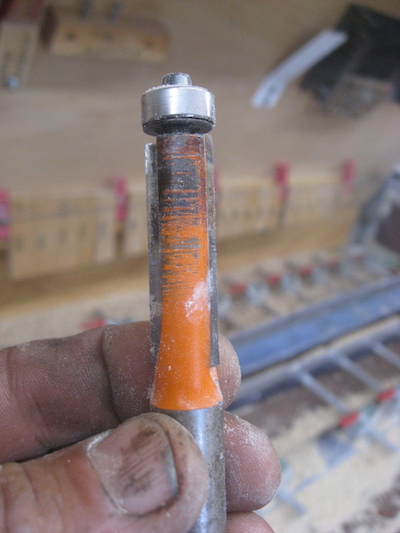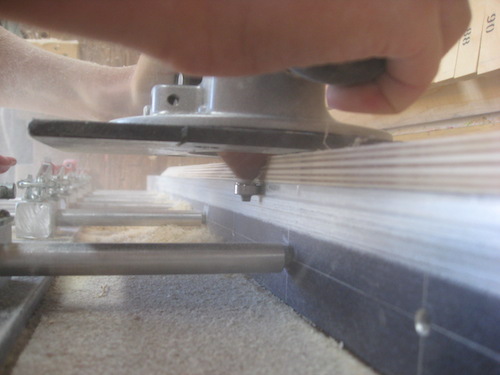 Ptex edge assembly must be exacting and correctly matted to the core dimensions. Each assembly takes 4 minutes to complete and goes through 3 quality control check points prior to building your skis.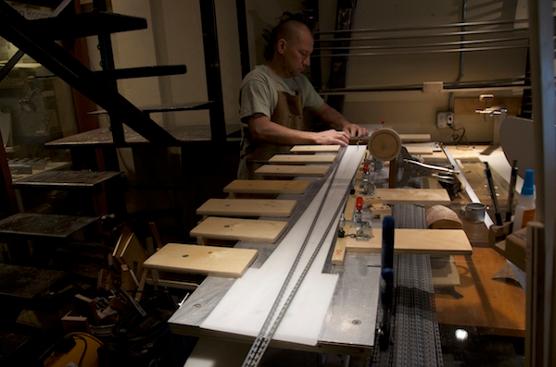 Accurately scribing the tip and tail profile lines is essential for speedy trim cuts later down the stream.
Referring to the shop copy for core flex pattern we're able to taper cut each core to within 1/64th termination thickness and in 5cm increments for taper length. This allows us to tailor every core for the individual client.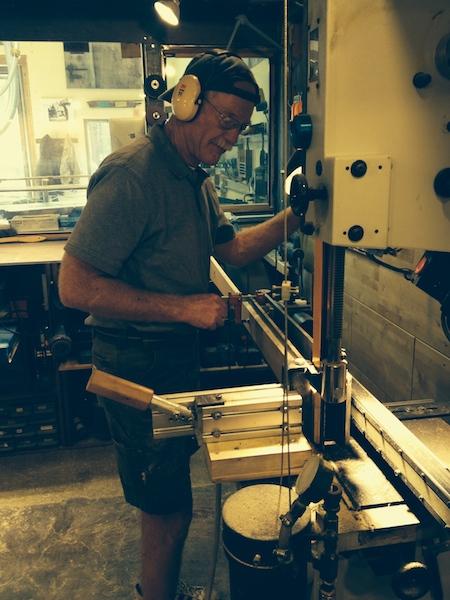 Additional millwork goes into the core from routing an edge rabbit, sanding down critical edge sections and drilling out our signature interlocking key hole.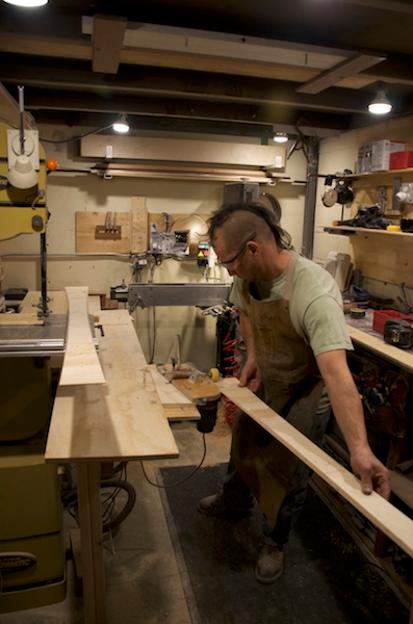 We have a selection of cassettes which are matched for the specific ski length the client has chosen. The p-tex edge assembly is mated to the cassette. Then in the wet lay process, the remaining materials are built out on top of the cassette.
This is a stack of adjustable camber/rocker racks. This system allows us to create specific camber/rocker profiles in under a minute.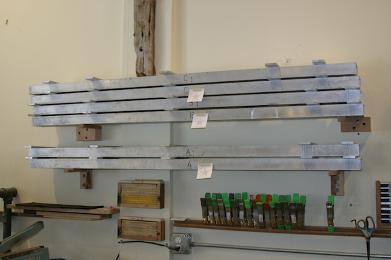 The graphics package, having received the final proof by the client, gets printed and prepared to be integrated into the composite.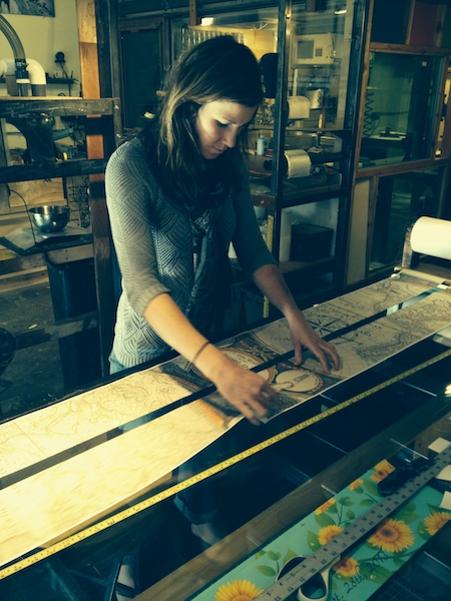 This is the core of what we do. The wet lay deck is where all the parts that form your custom skis are built up as a composite in an epoxy resin matrix. Here we add additional reinforcement, full length glass and/or carbon, the graphics package, veneer, or it's kept raw.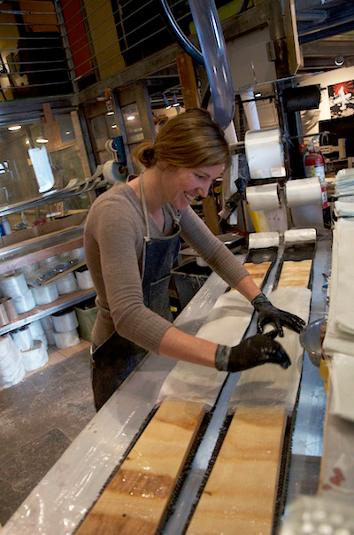 From wet lay the skis get placed under vacuum (atmospheric pressure). Excess resin migrates through a teflon coated fiber sheet and is absorbed into the black bleeder/breather cloth. The Skis are locked down onto the camber/rocker rack and placed in a convection hot box (temp 140 F) for 45 minutes.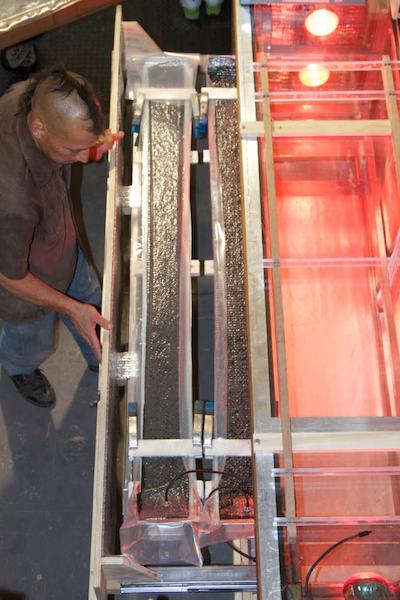 After a 10 minute cool cycle, skis go to trim cut.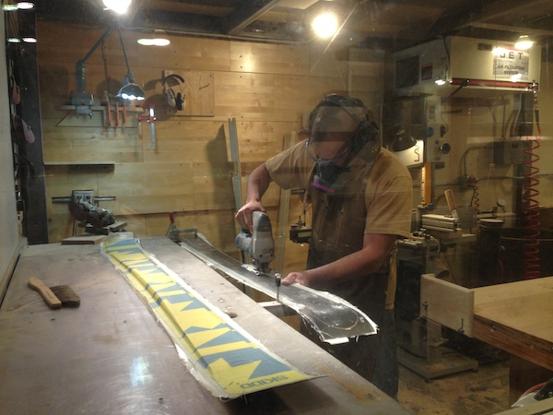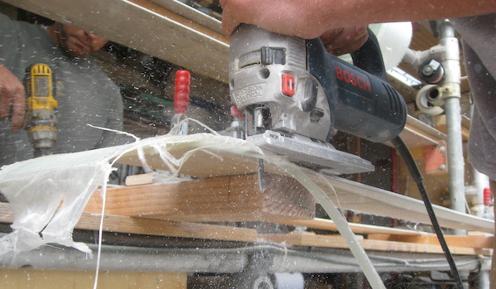 A rough grind makes quick work for the finish grind.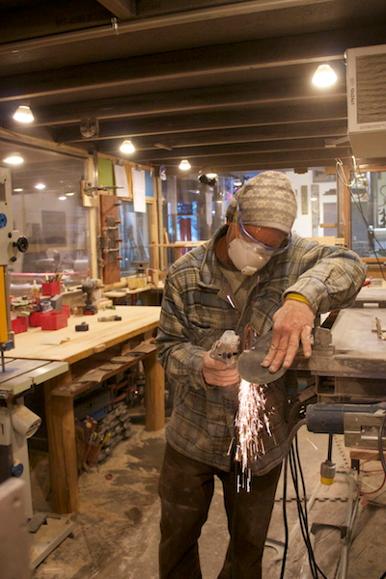 Final prep for a finish coat then off to the finish grinds.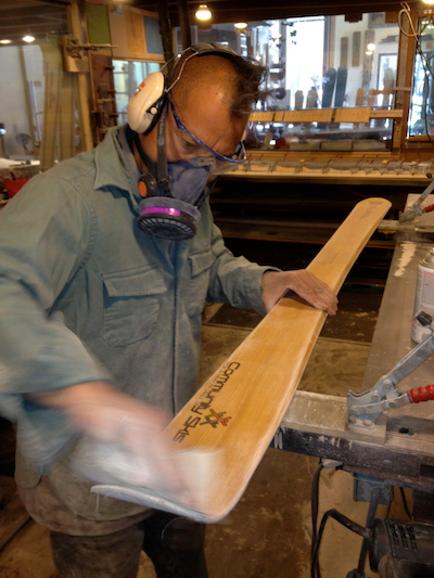 Pick them up. Take the obligatory picture. Or we'll wrap them up and ship them anywhere in the world.