Very happy! The skis are exactly what I asked for (though my aging body may not be up to the performance I thought it was). I got to ski them in Colorado last year and they were great in everything from speed to powder.
Very satisfied customer here!
-Doug K
Sorry I didn't get back to you sooner, but I've been too busy skiing my skis. LOVE THEM!! I thank you so much--You went above and beyond the call of duty!! When I am ready for another pair I will let you know. Meantime, I will keep up my weekly visits to your website to keep abreast of what is going on with you guys.
Love you guys--and remember--KEEP-ON-KEPPIN'-ON.
-Richard M.
This ski delivers as promised! I was truly amazed how well it carved high speed groomers and off piste...Are you kidding me?! This ski is in a different league- It floats very nicely in the pow, punches through crud like a machine and is light and maneuverable enough to throw around in the tightest chutes but still stable at high speeds. I can't speak highly enough of this ski- It will be my go to ski anytime there is a little of the soft stuff on the mountain.
-Ross W.
More Client Reviews
(Click on an image below)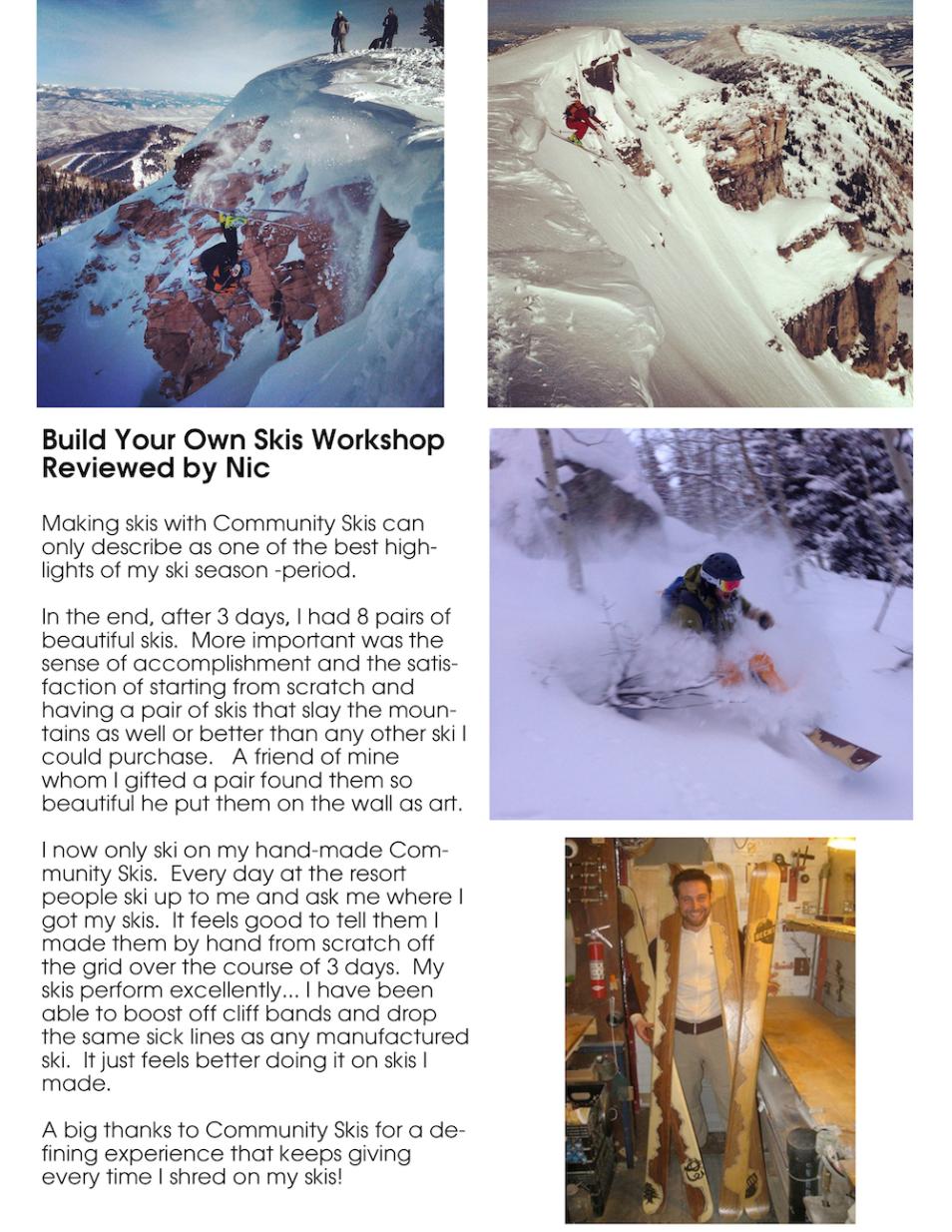 "One day about 8 years ago I found myself looking at buying yet another pair of skis. For some reason at that moment I had an insight that would change my life really. Why do I have to buy this one ski that's the same as another few hundred or thousand skis built by some international company... in other words, why can't it be custom? After some internet searches many options appeared. After experimenting with some options and really struggling with the desire to make skis myself, I decided to spring for a workshop with 333 skis. Now here were some down to earth people (living and building skis out of a towed trailer) and here was the opportunity to have a real, down to earth conversation, not only about the skis you're building for yourself, but about skiing in general. They know what they're talking about and are not afraid to share it. They had put so much time into every detail of the process from a real systems perspective. It was completely lean... Companies that spend hundreds of thousands on lean initiatives and Japanese consultants could learn tons from these guys, and here they were working out of a trailer right at the foot of a mountain. The experience of building your own ride is one that I will not describe since everyone should experience it for themselves. I will only say that the experience of building is one of those experiences we were put on this planet to have." - Joseph S.
"Generally speaking, I loved it!
I helped build my skis out of the trailer close to the little green church, after reading about 333 in local magazine.
First impression, "Wow, this is off the grid. I wonder if they can really build a legit product."
...3 years later, I still use my "old" 333s on every powder day in Mammoth.
"Community" is a great name for these skis, because every time somebody else with 333 or community skis sees another person with these skis, there's a strong inclination to give each other high fives.
Everybody I've met with these skis loves them, whether they helped build them or not.
However, I think the experience of helping to build your own skis produces a much greater affinity towards the brand and the product. Just like produce from your own garden tastes so much better / more fulfilling than anything you buy from a store.
The smell of the router cutting into the wood plank reminded me of wood shop, and building things, and making my own skateboards as a kid. I was immediately there in my garage, 12 years old, with my dad's jigsaw. Very cool experience and I would recommend it to everybody - I mean everybody (whether or not you ever used your dad's jigsaw at 12 years old without his permission):-)
I learned about rocker, and early taper, and width under foot, and how these affect performance of the ski.
Good food. Great people. Outstanding company." - Ross W.
"It was the very early days of 333 Skis and my daughter had given me a gift of a pair of 333 Skis. I called Michael to discuss what kind of skier I was and what kind of ski I was looking for. I explained I preferred skiing natural trails and not racing as fast as possible down the groomers. That began the process of designing skis to fit my needs.
The following summer I made the journey from Maine to Mammoth Lakes CA where Michael and his new business manager Kristin had parked the 333 Ski manufacturing off grid factory on wheels. It was a spectacular location, once the site of an Indian encampment complete with a pristine spring and countless obsidian chips leftover from another type of skilled manufacturing, arrowheads centuries ago.
OK, into the trailer and we begin the process of making skis. Kristin set up the machinery which will cut the skis to the exact shape, camber and other measures that I totally do not understand but ultimately will determined the performance of the skis based on the numbers that describe me as a skier and what I would expect from the ski. Holding firmly onto the router up one side of the ski then down the other, then layering on the fiberglass inserting some local wildflowers and even a feather I found nearby etc. etc. then into the suction chamber and on and on the ski making process goes all the while peeking out the open front of the trailer at the grand views of mountains and valley.
But the best part was still months away, that's when I got to actually ski on my creation. There is a certain feeling of accomplishment gliding down the mountain knowing my hands helped craft the skis beneath my feet. The skis were fat but so light and versatile. Whether skiing deep powder or hard pack they exceeded my expectations!
Michael and now co-owner Kristin (who happens to be my daughter) have continued to perfect and fine tune the ski making process to what Community Skis is today." - Steve B.
"I made my skis in September 2012 near Hot Creek.
I got lost on the way to the trailer near Hot Creek, so Michael came and got me in the chainsaw truck. It was a bumpy drive to the idyllic spot, so I had a few moments to ponder my limited breadth of knowledge of ski making up to that point: that I have used a sander in my dad's workshop a few times; that I love skiing; and that I have never actually wondered what's inside of a ski. What better place to find out than in a narrow trailer from whose tiny window one can see the bubbles in the adjacent creek and the peaks of the Sierra range? Michael handed me a mask, protective glasses and ear protectors. Pretending I use these accessories all the time, I held my breath as he showed me how to use the router. Amazing. I cut my skis! When it came time to pick out a design to lay into the fiberglass, I glanced at the brown paper Trader Joe's bag I had brought along with me. A lobster graphic! Red, about two inches tall, perfect (one of my favorite books is "The Secret Lives of Lobsters"). Interestingly, Kristin was on the phone with Michael at the exact moment, on her way back to Mammoth from Maine, bringing with her lobsters for a lobster dinner. Apparently I was going to be missing a lobster dinner on Thursday. (I would have been invited!) I remember walking out of the trailer thinking that I was so excited to form a relationship with my new skis. That is exactly what has happened. The experience was empowering and natural, and I am absolutely in love. Like a proud parent, I probably talk about them for way too long when strangers ask me about my lobster skis on the chairlift now. Ha!" - Dana N., Laguna Beach, CA
"I found out about you guys in a magazine during high cover for ski patrol over lunch and stole the article out of the magazine. Then I did some online research and found your 333 website when the 6 week ski smith apprenticeship was still happening and got really excited. I got in touch with Kristen and was stoked to get a response. We ended up in Kashmir that summer, but we kept contact (loosely) and over the next 2 years a dream and a plan slowly formulated that culminated with us coming to Mammoth, meeting you 2 beautiful people and learning and working with you guys at Community Skis.
The experience,…..well it is not always in life that the way something looks and the way you feel about it in dreaming turns out to be like that in real life. With Community Skis we felt like friends from the first meeting and the experience deepened and grew while we were learning and building with you both. To say it was an amazing experience doesn't quite go deep enough. It was a life and soul enriching experience with lots of fun and laughter, but also plenty of brain stretching learning as well. You made us feel like all was possible, without forcing anything, the beauty of your system and ski crafting was able to just flow.
I personally think Community skis are bomber and rad to ride (although we haven't taken a ride in Oz yet), but the fact that we were involved in the whole process makes our skis feel special in such a different way, like some of me is in the skis and we are ready to synch together and become one single, combined skiing entity. Maybe I am going too far, but it is hard to put feeling into words." - Orme, Australia
"I am pleased to write about my ski making experience with you and Michael. It started with the excitement of specking out a custom pair of skis with you. Then the next time we were in Mammoth you had the cores ready for Terry and I to build our skis. It really was a kick! We skied that morning and spent the afternoon in your shop making our skis, and skied on those skis the next day !! The whole process from the messy fiberglass/resin part to the graffic design part to trimming was one of the best afternoons I ever spent up there ! You and Michael are very patient and positive, it really was fun ! I think I just finished my 4th season on the skis, and they have lots of life in them still. They are always my go-to skis, my babies !
I rode chair 3 with a lady who was curious about them, and followed me down the face to see how the skis performed. ( she was a ski instructor on the mountain) she thought they looked great! Thank you both for the experience!" - Judy
Happy New Year, Kristin!
I just got back from a couple of days at Killington and Sugarbush, and couldn't be happier with 333skis.
Wanted to report back and thank both you and Michael Lish for your excellent work.
I purchased Marker Griffon bindings and had a base grind, wax, and edges tuned to 0 degrees.
The conditions at Killington and Sugarbush were highly variable as a result of a fresh dump of snow in the area, wide temperature swings, peak holiday crowds filled with snowboarders, and a bunch of snow-making gear all over the trails.
The 333's turned sooo soooooo so assuredly and consistently, into, through, over, along, every surface contour throughout the 3 days of skiing. They are sensitive and responsive to foot pressure applied upon turn initiation. I purposefully dashed into fresh pow-mounds to see if I would get ejected off to one side or the other; but no, the 333's tracked solidly straight through.
I feel like the tip rocker is providing a very forgiving flex for turning and terrain variation, and that's a big help to my modest skill level.
Yet, at the same time, once the speed picks up and you start leaning hard on them, there's a really solid "rails" feeling of strength and sturdiness.
During food breaks, I would compare the weight and thickness of the 333's to similar-sized Volkl's, Atomic's, Solomon's, and Rossignol's along the ski racks. I was surprised to see that the 333's were slimmer and lighter than most big-brand skis, but provided such a solid ride.
There's still so much more to discover about the skis' performance and what I can learn to do with them.
The best part is they're mine and I want nothing more than to hoist them on my shoulder and run off to any snow-covered hill I can find.
To health and happiness in 2012.
Sincerely,
Mike F.
I had an opportunity to ski my new skis yesterday, so here's a full review:
This was my second pair from 333 Skis, or third if you count my wife's. 333 Skis have improved their processes and shipping to the point that I cannot find a flaw anywhere in the company or their products!
This latest pair was designed to be an ice carving ski, and it delivers! With the rocker revolution I couldn't find many skis on the market designed for ice, excluding race skis, and I wanted something closer to my style. At 114-72-102 and significant camber, 333 Skis was able to produce exactly what I was looking for. I took them out for a trial run yesterday, in mixed slush and ice, and was amazed. Stable and nimble at high speeds in both slush and ice, the edge held fast to the slickest ice without any sliding.
Hands down, 333 Skis is the best place for advanced skiers to get top end gear, customized for their body and their skiing style, at a fraction of what intermediate level equipment costs in the store.
- Jimmy B.
First Observations winter of 11-12: My first day on my new skis. They are so cool and very light. I loved the way I could smear the turns! I am really looking forward to the coming winter. I really appreciate your work and how you work.
- Terrance N.
Hi Kristin and Michael,
I just wanted you to know that I got my skis last weekend and loved them. When I first saw you, I said that as a senior, I wanted a ski that did all the work for me. You succeeded. I found the 333 skis very easy to maneuver in all the varities of snow that Mammoth provides. From the worst crud to the lovely groomed slopes to the difficult Cornice, I found your ski to be the easiest best responding ski I have used. Thank you for the time and effort you put into making my skiing experience so great.
- Sandy K.
Let me say first off, THESE ARE THE SICKEST SET OF PLANKS I HAVE EVER BEHELD! The bodacity of these skis is in comprehendible! They are the perfect skis for me. Just the right amount of rocker and camber, the perfect length, they are all around AWESOME! At first I was really surprised by how light they are for a ski of that size. I can't express how much I LOVE these skis. I will send some pics when the lift opens and tell you how they perform. Once again, thank you so much!
I have had the chance to ski a few times this season so far. I'm loving the skis. They perform great on all kinds of terrain. The first few times up it was not icy but everything was groomed. They performed good on that and were fun skiing even though I don't really prefer groomed runs. A few weeks into the season we got a few good dumps and I got to try out some powder. They perform great in that. They are very easy turners even in deep deep pow. One day we got a few inches but I decided to stay in the trees that day. They were AWESOME! I have never been a huge fan of tree skiing, but that day, I loved it! This is because they are such quick turners. They are very maneuverable even in tight spaces. I always used to be a little skeptical on early taper whether it actually made a difference or not, but I'm a total believer now. I have also had the chance to try them in crud, over moguls (did i spell that wrong?), and icy snow. On the crud, they weren't the best, but crud is never fun.
Moguls like trees I have never really liked because you have to turn quick and it burns your leg, but this time I loved it. Of course skiing the icy snow sucked, it always does. Last friday I got my first big big air jump of the season. I was totally not expecting to get as much air as I did, but I landed about a 18 foot drop quite nicely. There was plenty of powder on my landing also. I skinned up three times before the season started, and my skis were fine most the time. Because of the rocker, in the very steepest places I started to slip a bit, but other than that they were fine. I'm totally loving the skis. I can't thank you guys enough. Also the picture is of me and my friend the first day we skinned up this season. It doesn't actually have me riding but it's the only one so far of me on the hill.
-David M.
Holy mother of all!
Got to try my new skis out yesterday, local lift, backcountry/woods, two feet of good snow. I'm stunned. Speechless for once. Nearly cryin'. In short: Haven't had this much fun on skis since WWII, or something like that. BIG smile! If I were to sum this ski up in just one word, it would be "nimble" Super fast from edge to edge, enough flotation even in the deep, razor carves on the groomers (just to get back to the lift, of course ;) ) Praise the ones who deserves your praise!
That's what I'll do! Bragging in the liftline is so much fun! And boy do them skis lift an eyebrow or two! Got two more days on the skis – fabulous. Deep, crusty or ice – Who cares what snow it is, as long as your tools cope in all conditions? Looking really forward to take them skinning to reach some gnarly mountainsides!
I'm hoping to be able to order three more pairs from you this spring – for my two girls (8 and 10) and a pair of big floaters for me. Time will tell!
Wish you all the best for the winter – you make my life richer and my skiing better!
THANK YOU VERY MUCH, Kristin and Michael !!
I'll be back.
Regards,
-Havard M
Custom Tele Mogul Skis - Adam G.
Things are grand here in Breckenridge, sittin just shy of 300 inches for the season which isn't too shabby for Jan 23. I got the skis mid November and had them mounted immediately with hammer heads. I also got some new boots for the season, t races which, in case you don't know are wicked stiff.
The most common comment I get on the skis is "wow, those are pretty skinny…". Of course they are I say, I had them made for moguls, little sidecut, shortish for me, light, flexy, a little early rise in the tip and tail. And like I hoped going into this, they f-ing rule in the moguls, the blue moguls on crescendo, the super steep moguls under e chair, the perfectest of perfect moguls under powerline lift at vail. More than a few times after a particularly fun pitch ive said aloud to no one but myself, "I love these skis". And I love them all over the mountain too, anywhere off of t-bar or imperial in most conditions. The early rise tip is very helpful. And i really like rippin around on skinnies, tis good practice for rippin in general. so thanks.
Thanks again.
- Adam G.
I had a great experience ordering my skis at Community Skis.
I first heard about Community Skis from other skiers at Mammoth Mountain. I was telling them that I couldn't find an all mountain performance ski for my size (currently on Volkl Mantra 146). They recommended Community Skis and their personal satisfaction convinced me that I could get a good result.
Kristin provided a very good welcome at the workshop. We had a long discussion about technical details on how my skis could be built based on my advanced skills (slightly more width for powder without giving up groomer carving or tight turns in chutes and moguls). She noted the modifications that were necessary for my needs. Kristin provided more detailed information about the build of the ski than I could digest! While we were communicating by email, she answered my questions promptly. We exchanged some photo samples and the template she used for the design made this part of the process very easy. My skis were ready on time and I was very excited to try them.
Finally! Because of Community Skis, I'm happy to own skis with the right size and stiffness. Having them customized with my own pictures adds on to the pleasure. I look forward to having a lot of adventures with them for years to come.
Thanks for your hard work Kristin, and thank you Community Skis!
-Marie
I've tried the skis and honestly they are awesome ! Very versatile. Good grip on hard snow. The front rocker is performing in deep snow. And the length is significant !
-Damien in France
My boyfriend's life is skiing, so what better Christmas present than a 100% custom pair of skis. I began my research and perused at least 50 sites…I love understanding that what I am getting is going to be the best! My boyfriend and I are both born and raised in Colorado and started skiing by the time we could walk, so we are not by any means shy to the community. I looked endlessly for anything close to what "Community Skis" had to offer, but just located in or even closer to Colorado, only to find that they are not as customizable—with graphics, shapes, tips, tails or materials, and none of them came close to the price-- including our travel most other places were at least twice the cost. We made the trek from Colorado, to Salt Lake City, to Reno, then took a bus to Mammoth, and walked from there or used the public transportation offered around town. The two-day workshop was able to be finished in one day and they worked very hands on with both my boyfriend and myself walking us through each and every step and upon completion of the pair of skis "Community Skis" was even able to ship them home for us. It could not have been a more pleasant experience and now my boyfriend has an amazing one of a kind pair of skis that will last him forever.
-Paige
Its getting near that time of year again, and I guess I never provided feedback on the 186 skis you guys made me:

Very Happy! The skis are exactly what I asked for (though my aging body may not be up to the performance I though it was). I got to ski them in Colorado last year and they were great in everything from speed to powder. Very satisfied customer here!
- Doug K
Report on WPT - better ski than my DPS and Soul7s and excellent GS style craving ski , very quick turning at slower speeds - skied some soft / wet powder crud with confidence this WPT is absolutely an (all mountain ski) a very (fun) ski. The WPT is heavy about like my S7s . I put 120 Rossi bindings on.
- Benny Wilson- Jackson Airforce