THE ULTIMATE WEDDING GIFT
-Fully Custom Skis-
To Share your love of skiing and the most memorable day of
your life
CUSTOM SKI SHAPES & GRAPHICS STARTING AT $795




It's pretty wonderful to build wedding skis.
A wedding day is like a manufacturing day here at Community Skis. Worry, trepidation, long hours of thought, concern for outcome, and all of it, every bit of it, underscored by Love.
Your marriage to be is like our marriage. A strong belief that it's so much better with, then without. The root of love is sharing. Patience, fortitude, and forgiveness makes it beautiful. Mistakes, missteps, misfortune, all add up to experience. And alas, at the end of each day, and the beginning of the days that do not end, the love of your mate, the love of our craft, makes every second worth it.
At Community Skis, we know well, your marriage is going to take hits; Our company does nearly every week. But that's par for the course. What's admired, why it all makes a difference, is the hand you'll hold, the hours we spend to get it right, the tears you'll shed, the skis that fail, the hope you'll be forgiven, the hope we can work it through with our clients. So, we're honored to be a part of your marriage, and honored just as much that you're a part of ours.
Wood Veneer skis guests can sign

For display only ($300) -or- custom designed for the slopes ($695)

Unique Wedding Gift Ideas:

Wedding Center Piece- Couples will design the skis prior to the wedding for display (and of course use after).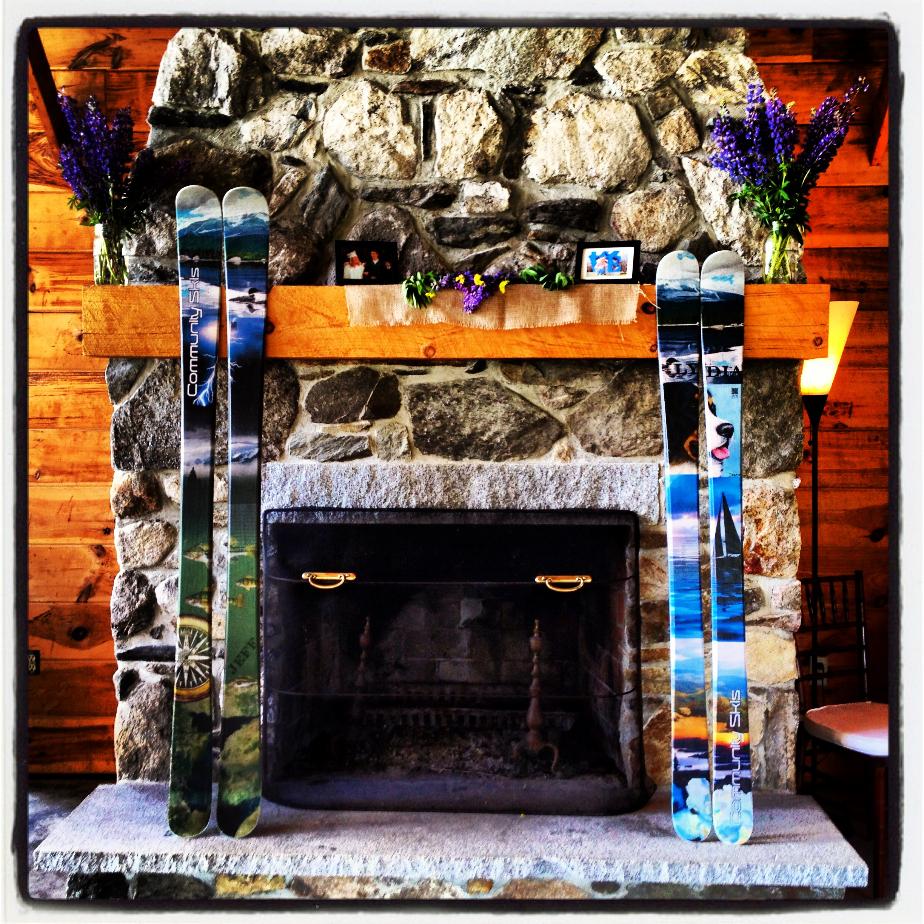 "You will find, as you look back upon your life, that the moments when you have truly lived are the moments when you have done things in the spirit of love."
—Henry Drummond
If you find yourself tasked with the opportunity to give a gift to a bride and groom, we at Community Skis stand in solidarity. Yes we are a business, and as such we desire to sell our wares. But our solidarity is not based on such, it comes from a deep sense to get the job done right, an understanding that our effort should translate into the greatest joy, that all of us should take pride in our contribution to others happiness. At Community, we honestly believe that what we build, with all our hearts, is worthy of a gift of love.